Ontology on the gone!
The Journal of the Lincoln Heights Literary Society
Miscellanea and Ephemeron
[Previous entry: "Comic review: She-Hulk #2"] [Main Index] [Next entry: "Film review: Shaolin Soccer"]
04/23/2004 Archived Entry: "Comics review: Be A Man"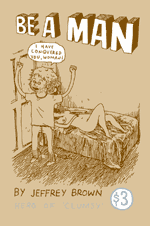 Be A Man
by Jeffrey Brown
Published by Top Shelf Productions
Reviewed by Tom Good
In an introduction to Be A Man the author explains that this comic is a sequel to (and parody of) an earlier work: "A few months ago I realized I was much too sensitive and pathetic in 'Clumsy,' so I wrote 'Be A Man' and fixed myself, creating the 'Clumsy' you all wanted to see." I have not read Clumsy, so this review is based on Be A Man as a stand-alone piece.
Be A Man consists of a series of 29 short black-and-white episodes, almost all of which are six-panel stories that fit on a single page. The art is intentionally crude, simple line drawings. The story features two unnamed characters, a man and his girlfriend, and it dramatizes stereotypically insensitive, macho male behavior. Example scene:
WOMAN: I'm fat.
MAN: Well, then why don't you get off your ass and lose some weight? Or just be comfortable with your body, like I am. [He flexes his nonexistent bicep muscles and pats his flabby abdomen.]
MAN (pointing to a TV show): That chick is HOT.
Though the concept has potential for humor, Be A Man is rarely laugh-out-loud funny. More often, the situations come across as uncomfortable and sad, though still entertaining in a way. In many ways it reminds me of Matt Groening's Life In Hell strip, with the added element of male chauvinism.
Overall, though I found Be A Man only mildly amusing, it did make me curious to read more of Brown's work.
Search entries:

The Wapshott Press
J LHLS is hosted on and highly recommends DreamHost.com One of the best deals anywhere. (PromoCode HKB669)
Ontology on the go!
"Ontology on the Go!"
J LHLS mugs
Review materials may be sent to

J LHLS

PO Box 31513

Los Angeles, CA 90031-0513

Thanks!



Notice: Comments are back! Yay! Note: Boo. Due to comment spam, comments are closed on certain entries. You can Contact us with your comment and we'll add it.