Ontology on the gone!
The Journal of the Lincoln Heights Literary Society
Miscellanea and Ephemeron
[Previous entry: "Artbook review: Mermaid Play"] [Main Index] [Next entry: "Joss Whedon's "Astonishing X-Men #1""]
04/30/2004 Archived Entry: "Review: The Sketchbook Diaries, Vol. 4"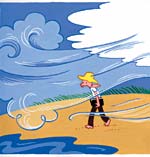 The Sketchbook Diaries Vol. 4
by James Kochalka
Publisher: Top Shelf Productions
Reviewed by Chad Denton
To be honest, "The Sketchbook Diaries Vol. 4" was more or less an abrupt introduction to the work and world of James Kochalka for me. I've read and enjoyed the delightfully surreal "Monkey versus Robot," but that was about all I knew about the man and the writer/artist James Kochalka.
"The Sketchbook Diaries" are basically a day-to-day account of Kochalka's life, recorded in black-and-white strips that number around three or four panels, beginning in 1998. In this volume, we follow Kochalka's careers as a comic book writer/artist and as a member of a rock band; his life with his wife Amy; his video game addiction; his decision to have a child with Amy; and the odd, funny minutia of life we all face. The experiences painted by Kochalka range from discovering how painful it is to spill toothpaste on your penis to his wife's last minute anxiety over becoming pregnant.
In contrast to the autobiographical themes of "The Sketchbook Diaries," the art is distorted through a cartoonist lens with the same light-hearted tone in "Monkey versus Robot." A few times through out the volume realist sketches appear, but Kochalka mostly sticks to the new forms he devised for his cast and himself: he and Amy appear as elves, Kochalka's friend and bandmate Jason is a dog (not a dog-man, but an actual dog), and other people in Kochalka's life appear with one eye, duck-shaped faces, or as giant beetles. Part of the fun of reading this is seeing these surreal figures participating in some very real-life activities: dropping the f-bomb, being naked, and urinating in public. There are few things more entertaining than seeing real life acted out by unreal figures.
All the vignettes in this book, whether intended to be completely hilarious or slightly poignant, come across as lovely little anecdotes and jokes friends and lovers share between each other. You never feel like an intruder into Kochalka's life, but a welcome guest, even if, like me, you did not have the benefit of reading the previous volumes of "The Sketchbook Diaries" or knowing much about Kolchalka's life and career. This is, without a doubt, the comic strip/book medium being put to one of its best and most inventive uses.
Search entries:

The Wapshott Press
J LHLS is hosted on and highly recommends DreamHost.com One of the best deals anywhere. (PromoCode HKB669)
Ontology on the go!
"Ontology on the Go!"
J LHLS mugs
Review materials may be sent to

J LHLS

PO Box 31513

Los Angeles, CA 90031-0513

Thanks!



Notice: Comments are back! Yay! Note: Boo. Due to comment spam, comments are closed on certain entries. You can Contact us with your comment and we'll add it.