Ontology on the gone!
The Journal of the Lincoln Heights Literary Society
Miscellanea and Ephemeron
[Previous entry: "The meaning of "The Meaning of Sports" review"] [Main Index] [Next entry: "A Trek Back - "Broken Bow" review"]
06/14/2004 Archived Entry: "Comic review: "Van Helsing's Night Off""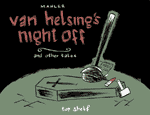 Van Helsing's Night Off
Writer/Artist: Nicolas Mahler
Publisher: Top Shelf Comix
ISBN: 1891830384
Reviewed by Chad Denton
Newspaper comics: no one you know reads them, or rather admits to it, but you'll probably get more than a few who'll proudly claim they zero in to only the 'edgier' fare like "Boondocks" or "Doonesbury" or rare acceptable-to-call-acceptable hits like "Get Fuzzy" or "Calvin & Hobbes," but those don't seem to count anyway. No, mostly I'm referring to the old classics that have stuck around on the paper and on the cultural consciousness like soap operas. Their names almost read like a catalogue of Olympian gods or Batman villains: "Blondie," "Garfield," "Wizard of Id," "Hagar the Horrible," "For Better or for Worse," and, most infamous and wretched of all, "Family Circus." The format is deceptively basic: simple and allegedly funny jokes given in the visual and textual equivalent of a shot glass. Yet, looking through all the bland gags repeated ad nauseam (Garfield's owner is a loser! Blondie's husband is lazy! Today's "B.C." strip has eerie Christian undertones!), it's easy to get the idea that the brief humorous comic strip is a medium that dooms its inhabitants to eventual stale-dom. Even "Peanuts," once a legendary strip, eventually became almost as redundant as the decades-old marketing blitzkreig that is "Garfield." But, fortunately, every now and then, something comes along to remind people what it could be.
Like these comic strips, the Austrian artist Mahler's vignettes collected in "Van Helsing's Night Off" are all jokes that usually take only a few minutes to digest. They all center around classic horror figures with a few variations - from The Mummy to Van Helsing to the Wolf Ma'am - just going to the bar or trying to pick up chicks or coping with their social lives. The big difference seperating Mahler from his mass produced American kin is that, well, frankly, nothing about his work is predictable or tried. And it's freakin' hilarious. My own favorite strip, "Van Helsing, Ladies' Man", finally answers the question of how Van Helsing might combine his professional life with his love life.
The strips, which are each longer than what you'd find even in the Sunday comics, are all silent, without either dialogue or captions, inviting the reader to employ his own imagination to the visuals and providing his own elaboration to the funny situations Mahler hypothesizes. The art is simple - all the characters are freakishly thin and tall or completely squat, with long noses consuming their entire faces - and will probably remind more than a few people in style and tone of a long missed comic strip classic, "The Far Side." However, Mahler's work here is a phenomenon of its own. My only complaint (and it's a petty one) is that this collection is too short, with only about sixteen extended strips, and I would love to purchase a more volumnious format. At any rate, one doesn't need to be a fan of the old Universal pictures to appreciate or 'get' Mahler's situational humor, and it serves as a hopeful reminder of what one can do with a 'mere' comic strip.

The Wapshott Press
J LHLS is hosted on and highly recommends DreamHost.com One of the best deals anywhere. (PromoCode HKB669)
Ontology on the go!
"Ontology on the Go!"
J LHLS mugs
Review materials may be sent to

J LHLS

PO Box 31513

Los Angeles, CA 90031-0513

Thanks!



Notice: Comments are back! Yay! Note: Boo. Due to comment spam, comments are closed on certain entries. You can Contact us with your comment and we'll add it.