Ontology on the gone!
The Journal of the Lincoln Heights Literary Society
Miscellanea and Ephemeron
[Previous entry: "Book Review: Confessions of a Master Jewel Thief"] [Main Index] [Next entry: "Comic review: "Fade From Grace""]
08/26/2004 Archived Entry: "Graphic Novel Review: Carnet de Voyage"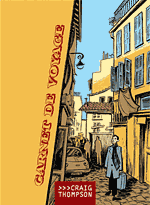 Carnet de Voyage
by Craig Thompson
Top Shelf Productions
ISBN 1-891830-60-0
Review by Jane Seaton
I was in Marrakech two months earlier than Craig Thompson, and I swear, I can see my lingering footprints in his sketches of the alleyways in the soukh. I'm not going to bother with vacations in future. I'll simply commission this genius to visit places on my behalf and send me his notebooks.
Sure, this book is a personal record, not a glossy travelogue. Thompson goes far beyond 'objective reporting', and has drawn and written a fascinating piece of autobiography with an acute sense of time and place. But when he accuses himself of whining, and embeds simulated third party commentary in the mutterings of gargoyles and the squawks of basketfuls of chickens, he just increases my delight in our common experience of French family life, fresh orange juice, stinking tanneries and skinny cats.
Thompson describes the book as a self-indulgent side-project. I disagree. Carnet de Voyage is almost perfect.
Search entries:

The Wapshott Press
J LHLS is hosted on and highly recommends DreamHost.com One of the best deals anywhere. (PromoCode HKB669)
Ontology on the go!
"Ontology on the Go!"
J LHLS mugs
Review materials may be sent to

J LHLS

PO Box 31513

Los Angeles, CA 90031-0513

Thanks!



Notice: Comments are back! Yay! Note: Boo. Due to comment spam, comments are closed on certain entries. You can Contact us with your comment and we'll add it.