Ontology on the gone!
The Journal of the Lincoln Heights Literary Society
Miscellanea and Ephemeron
[Previous entry: "Comic review: "Fade From Grace""] [Main Index] [Next entry: "Film review: Hero"]
08/28/2004 Archived Entry: "Same Difference and Other Stories"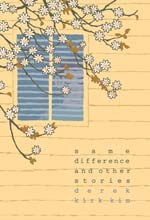 Same Difference and Other Stories
By: Derek Kirk Kim
Published by: Top Shelf Productions
A Low Bright Collection
Visit: Top Shelf Productions
An endearing book that tugs at memories we all carry from those confused and demanding years in our twenties. I often found myself softly laughing and sighing at each turn, thinking the author had gone to my high school and later followed me into my mass confusion. There is a twist though; his experience is seasoned by being a Korean American. And there are times the reader will envy that flavor.
The opening story is the story of regret and missed opportunity due to pride and conformity. It reads like a storyboard from a movie rather than a comic. One gains insight and understanding through sub notes as well as rambling humor running through seemingly meaningless conversations. But, as the reader travels this road with the author it becomes clear every word penned and expression drawn carries a pronounced importance to clarity and empathy. I laughed, I cried, and couldn't stop reading.
It is hard to say if this is fiction or the author copying from his personal journal with cartoonish humor. There are times the reader will wonder if they've stumbled on past doodles done during math class in an effort not to fall asleep. Personal, frivolous, pointed, and opinionated, Same Difference clearly allows the reader a view into the mind of the author.
This is an easy read that offers an evening or so of sweet entertainment and holds up upon re-reading.
The art itself is laden with real camera framing technique and there are more than a few times I found myself pondering a frame thinking how incredibly well done and expressive it is. These multidimensional spots allow a visual resting place to catch your breath and take in all that is being said through text and graphic.
The pace of the book is a slow dance. One doesn't feel compelled to hurry up and read to get to the conclusion, but to rest in the moment of expression and revel in its simplicity. It's all quite Zen really. Conversely there are moments of pure American Jadedness that reminds the reader where all this is taking place and how easily assimilated an outsider can become.
A charming publication that lives up to the author's talent it is bound in such a manner that suggests a transient state from child to adulthood.
It is neither a chick's book nor guy's book. It is a human's book.

The Wapshott Press
J LHLS is hosted on and highly recommends DreamHost.com One of the best deals anywhere. (PromoCode HKB669)
Ontology on the go!
"Ontology on the Go!"
J LHLS mugs
Review materials may be sent to

J LHLS

PO Box 31513

Los Angeles, CA 90031-0513

Thanks!



Notice: Comments are back! Yay! Note: Boo. Due to comment spam, comments are closed on certain entries. You can Contact us with your comment and we'll add it.