Ontology on the gone!
The Journal of the Lincoln Heights Literary Society
Miscellanea and Ephemeron
[Previous entry: "Movie review: Sky Captain and the World of Tomorrow"] [Main Index] [Next entry: "Trek book review: Tales of the Dominion War"]
09/24/2004 Archived Entry: "Book reveiw: House of Reeds"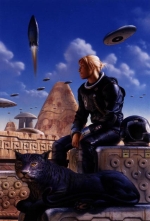 House of Reeds
By Thomas Harlan
Publisher: Tor Books
Review by Jessica Groper
(This review contains plot and character details, please proceed at your own risk. Ed)
One of the great things about science fiction is how far away the reader can be transported. Alien cultures, superior technology, conflicts between species; they take the reader to a reality in which anything can happen, because the imagination is unlimited. Sometimes, though, the science fiction author gets a little too caught up in the boundlessness of the imagination. The created world becomes complicated with politics, histories, and too many characters. I canít help admiring any author who can bring so many details into an imagined universe, but when thereís so much going on it can be hard to jump into the plot and really know whatís going on. This is a big challenge in Thomas Harlanís House of Reeds.
The second in a series, this book is set in a world where the dominant human powers come from an ancient Mexican culture and from Japan. The characters range from a team of corporately funded archaeologists, to a bedraggled starship crew, to a powerful group of political conspirators, to an out of control Mexica prince. Somehow all of these characters arrive at the same location, an alien planet under Imperial rule, just in time for an outbreak of rebellion and violence. The large reptilian creatures Ė I imagine them as undersized t-rexís Ė have been manipulated by sedition and rumor, and armed by underground militant groups. The archaeological team has been sent to search for an unidentified magical artifact, and their leader, Gretchen, seems to be plagued by visions of a previous life. Presumably something happened in book 1 to Gretchen that had to be buried in her memory, but all the reader gets are cryptic hints. Meanwhile, Tezozomoc, the youngest son in the Mexica royal family, is on a non-stop bender of alcohol, mind-altering drugs, and any trouble he can sniff out, with his long suffering bodyguards in tow.
And thatís only the beginning! This book is densely packed with sub-plots, sub-characters, and mysteries that never get explained (hey thatís what a sequel is for). But, while I was lost for a large majority of the book, I was never bored. The writing is intelligent, the use of Aztec inspired subject matter brings the past into the future, and the fate of all the characters kept me reading despite my confusion. House of Reeds is a prime example of inspired science fiction.

The Wapshott Press
J LHLS is hosted on and highly recommends DreamHost.com One of the best deals anywhere. (PromoCode HKB669)
Ontology on the go!
"Ontology on the Go!"
J LHLS mugs
Review materials may be sent to

J LHLS

PO Box 31513

Los Angeles, CA 90031-0513

Thanks!



Notice: Comments are back! Yay! Note: Boo. Due to comment spam, comments are closed on certain entries. You can Contact us with your comment and we'll add it.