Ontology on the gone!
The Journal of the Lincoln Heights Literary Society
Miscellanea and Ephemeron
[Previous entry: "The Journal of the Lincoln Heights Literary Society, Issue 5"] [Main Index] [Next entry: "Interview: Esad Ribic"]
10/31/2004 Archived Entry: "Book Review: The Mirror of Love"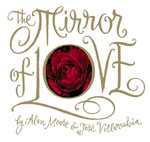 The Mirror of Love
by Alan Moore and Josť Villarrubia
Publisher: Top Shelf Productions
Reviewed by Kathryn Ramage
When I first heard about this new edition of the epic poem by Alan Moore (of Watchmen, From Hell, and The League of Extraordinary Gentlemen fame), I thought that it would be a graphic novel. It isn't - but it is a remarkable visual experience.
Moore's poem was first published in 1988 as part of AARGH!, Artists Against Rampant Government Homophobia, an anthology of comic art in protest against Britain's Clause 28, which prohibited local authorities from "promoting" homosexuality. The poem is a history of gay people, and perceptions of them, from the beginning. ("Leviticus condemned most sexual practice as unclean, including that between two men. / This was designed to snub the Canaanites, whose male priests practiced sodomy. / Had they been cannibals instead, how different might things be.") In its initial publication, the poem was illustrated by a love affair between two hermaphrodite angels, mirror images of each other. The title of the poem, The Mirror of Love, is taken from an 1895 Aubrey Beardsley print of the same name, and which also features an androgynous angel.
In this new edition, the angels are absent (although Beardsley's angel appears on the final page); instead, the text is beautifully illustrated by photographs taken by Josť Villarrubia. Each page contains two or three stanzas of the poem, and on the facing page is a one of a collection of striking images: a Greco-Roman statue with red paint (or blood?) smeared on its lips; two women lying head-to-head, bodies in opposite directions, amid a bed of flowers; a man in Spartan costume, teeth bared ferociously. Some images are erotic, but never explicit. Others are disturbing, but again, without being graphic. Blood on the snow, for example. The page facing lines on the Holocaust ("The showers, they say, held bodies piled. . . Can you imagine? Can you?") is utterly black.
Reading the poem is a moving experience in itself. Seeing what images accompany each page only enhance and intensify the words.
Like T.S. Eliot's The Wasteland, The Mirror of Love comes with footnotes - or rather, an appendix of notes on Who's Who among the historical figures referenced in the poem. Further appendices contain the full text of poems quoted by Moore in his own work - by Sappho, Emily Dickensen, Walt Whitman - and an explanation of the Clause that initiated the protest. There is also, a foreword by Robert Rodi on the history of the poem, and an introduction by David Drake on how this new edition came to be.

The Wapshott Press
J LHLS is hosted on and highly recommends DreamHost.com One of the best deals anywhere. (PromoCode HKB669)
Ontology on the go!
"Ontology on the Go!"
J LHLS mugs
Review materials may be sent to

J LHLS

PO Box 31513

Los Angeles, CA 90031-0513

Thanks!



Notice: Comments are back! Yay! Note: Boo. Due to comment spam, comments are closed on certain entries. You can Contact us with your comment and we'll add it.